A Course of Life - A Retrospective on Carolyn Craft
Carolyn draws on her experience as a counselor, speaker, corporate executive and spiritual leader, to offer heartfelt direction to students in search of living a fuller life. Explore her past ventures below!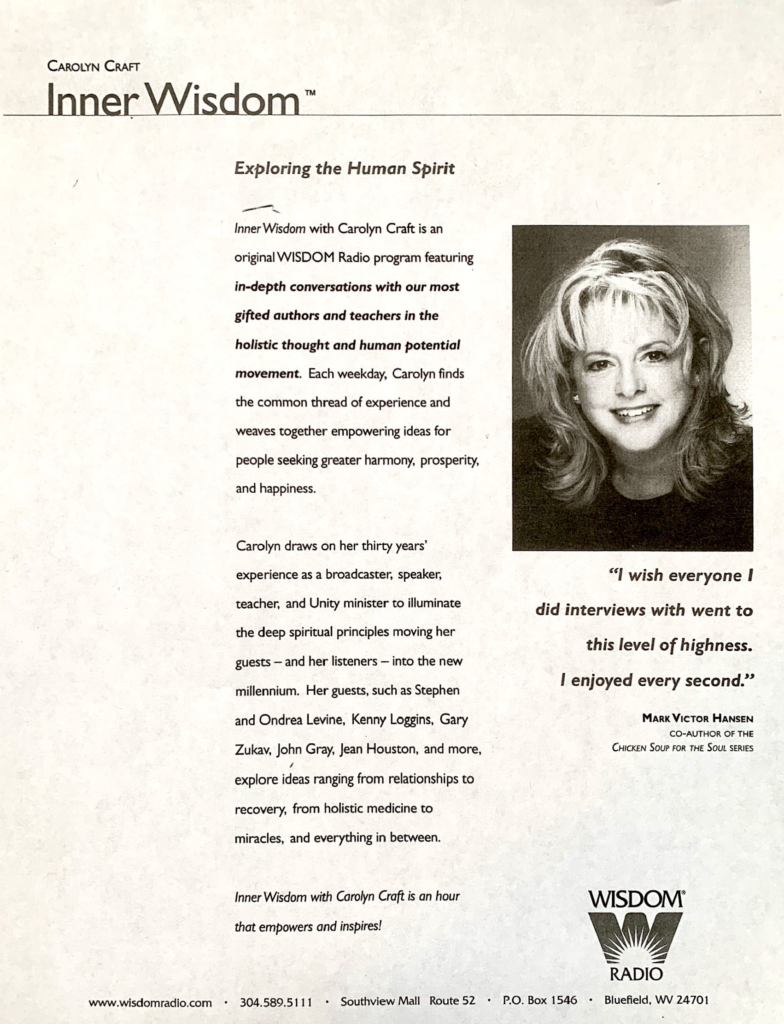 Carolyn Craft has been sharing her insights into consciousness and the human potential movement, with a focus on the social and psychological roots of current issues; as a broadcast veteran and expert, visionary producer/developer, and business executive and advisor. In addition, Carolyn presents publicly on such topics as "Collaborative Competition," "Business as the Manifestation of Vision," "Performance Thinking and Communications," and "The Twelve Powers of Success." Carolyn has been featured in the national media for her commercial recordings, including People magazine. She's a leader and an entrepreneur within any group of professions in which she finds herself and is passionately dedicated to the empowerment of others as well as being a voice for wisdom, in private practice, in businesses, and with executives and educators around the world. 
She brings to any coaching or counseling endeavor, extensive psychotherapy studies and trainings, and relative insights from having ongoing personal conversations with nationally known leaders in the field of human potential. Dr. Waybe Dyer, Gary Zukav, Dr. John Gray, Deepak Chopra, Caroline Myss, Marianne Williamson, jeam Houston, Dr. Joan Borysenko & Neale Donald Walsch represent a few of the visionaries who have shared their wisdom with Carolyn through her years of television and radio experience. As a result, her private counseling practice offers a unique opportunity for growth and expansion.
National & Regional Recording Talent
In the past, Carolyn has offered executive interviews and interview coaching, helping professionals find their voice and share it with others. She also has produced, hosted, and lent her voice to numerous endeavors, including: Wisdom Media Group, Life Balance Media, Coppertone, Satalite Cinema, Holiday Inn, Dover Endeavors, KC Hospital Associates, Int'l Association Unity Churches, Sales & Marketing Executives Int'l, Wendy's, McDonalds, Branstad for Governor, Explorer Dental Management, and more.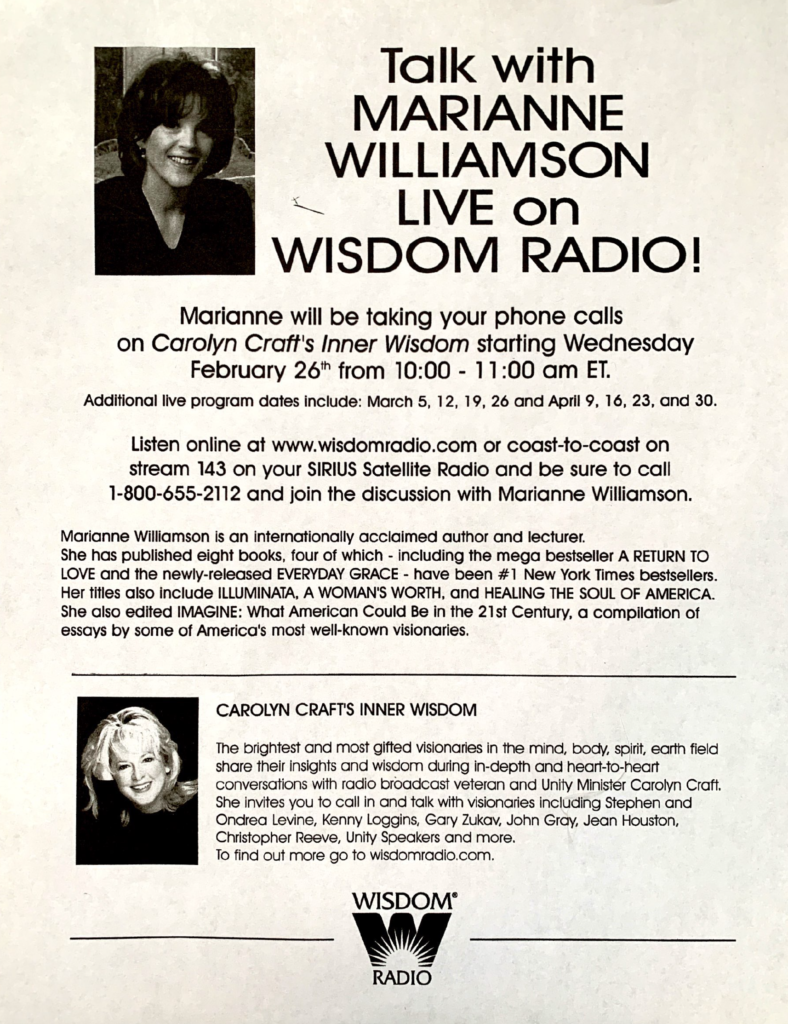 Waking Up with Carolyn Craft
Short list of guests who appeared on Waking Up
Wally Amos
Joan Borysenko
Gregg Braden
Julia Cameron
Deepak Chopra
Alan Cohen
Andrew Cohen
Kenneth Cohen
Larry Dossey
Wayne Dyer
Mathew Fox
Gangaji
John Gray
Mark Hansen
Harville Hendrix
Jean Houston
Jon Kabat-Zinn
Byron Katie
Lama Surya Das
Kenny Loggins
Ray Lynch
Edgar Mitchell
Robert Muller
Caroline Myss
Christiane Northrup
Judith Orloff
Dean Ornish
Christopher Reeve
John Robbins
Dr. Bernie Siegel
Houston Smith
Sir John Templeton
Robert Thurman
Ben Vereen
Neale Donald Walsch
Dennis Weaver
Dr. Andrew Weill
Dr. Brian Weiss
Marianne Robinson
Unity Minister, Pastoral Counselor, Creator/Director & Executive Director, Public Speaker, Executive Coach, General and Sales Manager, Marketer, Recruiter, Written & Verbal Communicator, Business Manager, Life Coach, Consultant, Trainer, Motivator, Researcher, Voice Talent, Executive Producer
UNITY COUNSELING SERVICES – Pastoral counselor committed to facilitating non-violent communications, speaking on global issues and mind-body-spirit, writer, Minister and Spiritual Counselor and radio talk show host. (2005-present)
WISDOM MEDIA GROUP – Director of Development (Radio), Executive Director (Radio), Consultant and Television on-air and voice talent. (1997 -2003)
UNITY WORLDWIDE MINISTRIES, KCMO – Media and Broadcast consultant funded by the John Templeton Prize and Progress in Science and Religion (1988 -1993)
CRAFT COMMUNICATIONS, INC – Owner, president, broadcast writer, producer, host and LA, Station manager/general sales manager (KKYX/KLLS San Antonio, TX (1985 -1990)
SWANSON BROADCASTING – General Manager (KKYX & KLLS, San Antonio, TX) (1985 -1987)
VIACOM  – General Sales Manager (WRVR, Memphis, TN) (1979 -1983)
Harte-Hanks Communications  – Sales/Regional Manager (WEZI, Memphis, TN) (1975 -1979)
Psy D – Graudate Theological Seminary (2012)
M Div – Unity School for Religious Studies (1992)
BA – University of North Carolina, Chapel Hill (Radio/Television Communications) (1972)
Professional Speaker for:
WISDOM Media Group – Mind/Body/Spirit/Earth
NC Association of Pastoral Counselors
NC Association of Chaplains
Sales and Marketing Executives, International
American Women in Radio and Television
Christian Brothers College
Association of Unity Churches
Court Appointed Child Advocate
Unity School for Religious Studies
Radio Advertising Bureau
United Way
Uniport Distribution Center
West Tennessee Talking Library
Spouse Abuse Crisis Center
Memphis State University
Professional Women's Organization
Unity Churches in 7 regions/US
Additional Trainings, Certifications, and Studies
Clinical Pastoral Education – Chaplaincy Program at UNC Hospital, NC & Staff Pediatrics
Nonviolent Communication Training
Institute for Sex and Enlightenment, IN
Nutrition for Mental Health, NC
Hartfort Family Institute, CT
Besser van der Kolk's Specialized Care for Trauma Victims
Pavillion Interational, NC
Art of Sexual Intimacy, France
Heartmath, CA
Hakomi Psychotherapy (3-year training)
Energy medicine with Donna Eden
Somatic Experiential Therapy Training
Gestalt Body Centered Therapy Trainings
Wharton School for Business, Philadelphia
Sound Healing with Sharry Edwards
Child Advocacy Program, Kansas City
Templeton Fundability, Kansas City
WTTL Speaking for Blind, Memphis
Arcane School, London
Staub Leadership Training, Greensboro
Radio Broadcasting Management Conferences, Dallas
Sales and Marketing Executive Conferences, Memphis
Church Growth Seminars, Huntington Beach
UNC Scholarship Broadcast Institute, Chapel Hill
Carnegie Sales Training, Memphis